As part of our newly coordinated global strategy to more aggressively advance ASCE's goals internationally, Executive Director Tom Smith and I traveled to South Africa, to meet with leaders to discuss a myriad of different topics affecting the civil engineering profession in South Africa.
We began the trip by attending the 2016 Civilution Congress in Johannesburg, which focused on "minimizing risk by maximizing accountability." I spoke about how to inspire young engineers to become more proficient, confident engineers.

The South African Institution of Civil Engineering (SAICE) Younger Member professionals performed a skit on
ethics based on the film, Ethicana.
Our meetings with SAICE President Chris Herold included discussing issues surrounding engineering practitioners, education, sustainability, and the role of engineering as a voice in local government. The president also touched on his presidential mandate for 2016 that focuses on the re-professionalization of the public sector, a very hot topic within South Africa at the moment.
From our meetings we learned that SAICE is focused on growing the amount of students choosing to study civil engineering. They are trying to encourage and raise awareness in high school students through their internal initiatives, such as the international Bridge Building and Aqualibrium Water competitions, to promote the civil engineering profession.
We traveled to Cape Town for the historical landmark celebration. We then continued on to the southernmost tip of Africa at the Cape Agulhas Lighthouse. Built in an Egyptian Renaissance style, the lighthouse was the third lighthouse to be built in South Africa. The lighthouse has been operating since 1848, making it one of the oldest functional lighthouses.
One of my proudest moments was awarding the Cape Agulhas Lighthouse with an International Historic Civil Engineering Landmark plaque. The lighthouse joins South Africa's two other civil engineering landmarks, Victoria Falls Bridge over the Zambezi River and the Woodhead Dam on Table Mountain, with this prestigious distinction.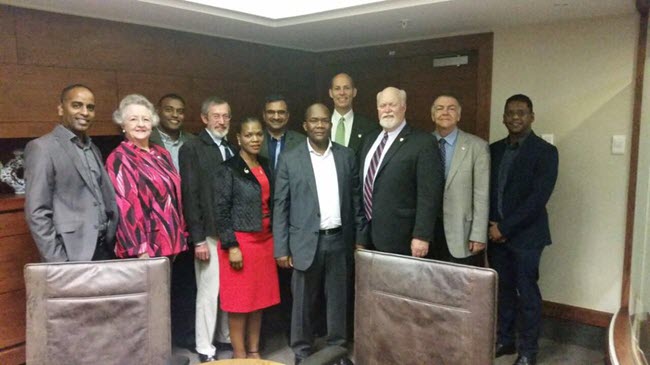 Next on our tour, we met with the Mayor of eThekwini discussing infrastructure development, sustainability, professional registrations, STEM education, and the quality of graduates coming out of tertiary institutions. We also touched on the optimization of life-cycle costs for new and existing infrastructure.
To wrap up the trip, I spoke to civil engineering students  at the University of Kwa Zulu Natal on career development.
South Africa has made some great strides in its commitment to infrastructure and advancing and growing the profession. Our trip to the area was both wonderfully beautiful and extremely insightful into the global state of our profession. I look forward to applying the lessons we learned from our trip.