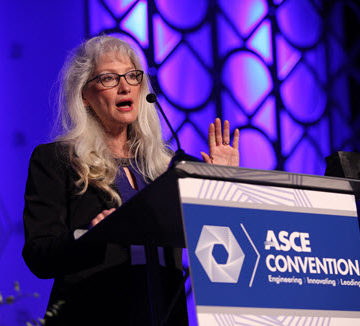 For 2017 Society President Norma Jean Mattei, it's like inviting all her friends to a big civil engineering party at her home.
The ASCE 2017 Convention kicked off Monday morning in New Orleans – hometown of jazz, resilient infrastructure, and, yes President Mattei.
"It's been so exciting," Mattei said. "This is not a typical occurrence to have the convention in the president's home city. I surely hope that our members enjoy the hospitality of my city and the wonderful things to do – the places to go, the food to eat, the music to enjoy."
Mattei will pass the presidential gavel to Kristina Swallow Tuesday morning at the annual ASCE Business Meeting. Monday's program included an opening keynote address by former CNBC Chief Economist Marci Rossell, who discussed the changing economic climate and how civil engineers can help drive solutions and growth.
ASCE inducted its 2017 class of Distinguished Members during the Celebration of Leaders Luncheon.
And of course, attendees started networking early and often, comparing notes and making connections.
"I look at it as making connections for life for success," said Reza Sheykhi, Ph.D., A.M.ASCE, president of the ASCE Construction Institute's Miami-Dade Branch. "I see these people who got their Distinguished Membership – all of them in their speeches, they mentioned that they worked with ASCE friends throughout their lives. Instead of just working as somebody in your company, with ASCE, you're actually part of something bigger.
"I look at it like: if our profession is horizontal in our life, this society is kind of vertical." Sheykhi said. "It's connecting all aspects of our lives in different layers."
View photos from the convention's first day. Click on the photo for captions. Follow activities as they happen, as shared by attendees and ASCE, at #ASCE17.