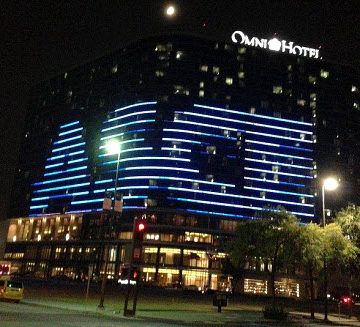 There is an old public relations slogan that boasts, "Everything is bigger in Texas." And so when the ASCE Texas Section Centennial Celebration Committee first met 4 years ago, they decided that their year-long 100th anniversary celebration would be big too.
"We set the bar high," recalled Centennial Celebration Chair and Region 6 Governor Sean P. Merrell, P.E., PTOE, M.ASCE, of that first meeting. "Texas is always competitive and we are always bigger and better than everyone else so we definitely wanted to have a bigger 100th anniversary celebration than everyone else.
"One of the first things we decided was that this was going to be a year-long, statewide celebration. We wanted to make sure that this was not something that the Texas Section alone was going to celebrate but include all 16 Branches and have it go throughout the year."
To accomplish that, Merrell says the committee made two important decisions. First, a graphic designer was sought who would create a centennial logo not only for the Texas Section but a separate logo for each of the 16 ASCE Branches in Texas. And second, a series of 12 monthly themes focusing on a particular civil engineering-related topic or issue was developed. Beginning in January 2013, each month there would be a different theme that would be used to incorporate a series of related activities and programs.
The committee decided that January would focus on government involvement, February would be student mentoring, March would be civil engineering history, April would be sustainable environment, May would be water awareness, June would be transportation/traffic, July would be discover civil engineering, August would be  structural challenges, September would be a "Time to Celebrate" in conjunction with the Section's annual Fall Conference in Dallas, October would be geotechnical discovery, November would be community involvement, and December would be looking forward into the future of civil engineering.
"What we really wanted to accomplish with our 100th anniversary celebration," explained Merrell, who also was ASCE Dallas Branch president during the Centennial Celebration year, "was to give our members a sense of pride in ASCE.
"We also wanted to increase awareness and understanding of civil engineers with the public; we wanted to celebrate the past and preserve and promote the heritage of civil engineering; we wanted to look toward the future to excite and inspire dynamic, intelligent young people to join our profession; and we wanted to create that lasting legacy for the profession by continuing a lot of the very successful programs and activities we began this year."
Report Card, Proclamations, and Centennial History Book
The Texas legislature meets in regular session from January to June of each odd-numbered year. The committee recognized that a great way to kick off the anniversary celebration would be a media event to release the newly updated Texas Infrastructure Report Card at the state capital in Austin and present it to elected officials.
The release of the Report Card also provided an opportunity for members to work with their local government to recognize ASCE and obtain a proclamation for the Texas Section centennial year. Members received 33 individual 100th anniversary proclamations from cities and counties across the state, including from Governor Rick Perry, the Texas Senate, and the Texas House of Representatives.
"This really helped to get civil engineers out there into the community and in front of our government and elected officials," says Merrell, who is employed as a traffic engineering project manager in the Frisco, Texas, office of Brown & Gay Engineers, Inc. "A lot of times these local county and city meetings are shown live on TV, or taped, so it was nice to have the mayor or another elected official read the proclamation surrounded by our ASCE members and publically recognize the work that civil engineers are doing in their communities."
As with many ASCE Sections celebrating their 100th anniversary, the Texas Section has just released its centennial history book, titled Engineering a Better Texas: ASCE and 100 Years of Civil Engineering in the Lone Star State. The book is divided into decades that showcase the different sets of engineering challenges men and women have faced in Texas over the past 100 years.
"This book is probably one of the crowning achievements of our centennial celebration," says Merrell, whose committee raised close to $90,000 for their celebration year. "We didn't want this book to be a recap of what has been previously written, because we have [already] had a 50-year and 85-year history book published that summarized the organization's growth. So we hired a writer [Betsy Tyson] and she actually did a lot of research on civil engineering projects and it turned out to be an amazing book. It really is about Texas civil engineering, Texas civil engineering projects, and Texas civil engineering leaders of the past 100 years."
Webinars and Student YouTube Contest
In conjunction with the monthly themes, the committee produced free monthly theme-related webinars, the one in February focusing on STEM (science, technology, engineering, and math) mentoring opportunities in Texas. The committee also helped schedule such activities as outreach programs and visits to local universities, high schools, and grade schools during that month for Engineers Week, all to help students become more informed about the civil engineering profession.
"The webinars were very successful and some had as many as 100 or more people listening in," says Merrell. "Another great centennial activity is our student video contest, which started in September and goes until the end of the year. It is a national contest and is open to high school and college students in all 50 states."
Merrell explained that the YouTube Contest, "A World Without Civil Engineers," is intended to promote the importance of the civil engineering profession by giving students the opportunity to explore – and present in a 4-minute video – their idea of what the world would look like without civil engineers. Prizes of $800, $500, and $250 will be given for the best videos, with winners to be announced in January 2014 and be featured on the Section's website.
"We are hoping that what the students do in this video contest is maybe shock people a little," Merrell says. "Perhaps showing a bridge with traffic going across and then the bridge disappears and all the cars fall into the water. Something like that which can put in people's minds how important civil engineers are to society."
Building a Sustainable Habitat for Humanity House and a New Founding Marker
As part of the community involvement theme, the Texas Section broke ground September 14 on the construction of the ASCE Centennial Habitat for Humanity House, located in the Los Altos neighborhood in west Dallas. The Section contributed $30,000 toward the construction of the house, which is designed to provide safe, affordable housing for a family in need. In keeping with the design and construction of sustainable structures, the house aims for LEED Gold certification by incorporating green building features through its inverted roof truss design, clerestory windows, and electricity provided by solar panels.
"This house is being built differently than any Habit for Humanity house in the Dallas area has ever been constructed," Merrell says. "It will be a lot more affordable over the years for the family to live in because of the sustainability features designed into it."
On October 1, the Section unveiled a new founding marker in Corpus Christi to commemorate the inception of the Texas Section in 1913 in that city. The marker, and its companion dedicated in 1983, are both prominently displayed along public walkways near the place where the original founders of the Texas Section first explored the idea of an engineering society in Texas. A third marker in Dallas, on display at the Old Red County Courthouse Museum, commemorates the conclusion of the preparations and final establishment of the Texas Section.
Merrell noted, "These bronze and aluminum plaques will serve not only as reminders of this historic event for ASCE, but are an educational opportunity for the public."
Spring and Fall Conferences and Centennial Celebrations
Texas covers a lot of area and the Section has, since its founding, held 2 meetings each year in order to provide educational and networking opportunities to all its members. It seemed appropriate that for the centennial year these 2 meetings would be held in the cities where the Section was formed, so during March 19-23, the Texas Section Spring Conference and Centennial Celebration was held in Corpus Christi to celebrate where it all began in 1913.
The conference kicked off with a reception honoring the past presidents of the Texas Section and included a golf tournament; several networking opportunities with members, students, and conference exhibitors; and an expanded educational program. Other highlights of the spring conference were a tour of the recently renovated Lydia Ann Lighthouse and an evening of celebration at the Texas State Aquarium. In keeping with Texas Section tradition, the student concrete canoe competition was held the last 2 days of the spring conference on the seawall in downtown Corpus Christi.
Capping off the year's events was the 2013 Texas Section Fall Conference and Centennial Celebration, held in conjunction with ASCE's Construction Institute Summit, September 11-14, in Dallas.
"We had a goal of making this the biggest Texas Section conference ever and that is what it ended up being, with over 600 people in attendance," says Merrell. "As part of that, we held a Texas Section Centennial Awards Luncheon where we gave special awards for Excellence in Journalism, the John A. Focht Jr. Citizen Engineer Award, the Lifetime Service Award, and our Award of Honor.
"We had a lot of involvement with our technical institutes again, so we had a lot of great sessions on technical subjects like Environmental Protection in Shale Oil and Gas Development, and Advancements in Water and Wastewater Treatment, but we also explored important Society issues such as a Raise the Bar session and an ISI (Institute for Sustainable Infrastructure) Envision Accreditation Workshop. Plus, we had a whole program and track for college students, such as field trips, a student paper competition, student roundtable, and networking opportunities."
With the theme Sparking Innovation, the conference also included a technical tour of Cowboys Stadium, the world's largest retractable roof structure, and tours of the George W. Bush Presidential Library and the Perot Museum of Nature and Science. There was also a reception at the Old Red Courthouse, the location of the first official meeting in 1913 of what was then called the Texas Association of Members of the American Society of Civil Engineers. The social highlight of this conference was a Texas Hold 'Em Poker Tournament to help raise money for college scholarships.
Merrell added that programs and activities especially created for the centennial celebration will continue in future years.
"Spurred by our centennial celebration we are going to change some of the activities we do at the Texas Section," he concluded. "In the past, these biannual events were called spring and fall meetings and this is the first year we changed that to become a full-fledged conference with awards, sessions, speakers, and technical tours alike."
 Next month, learn how ASCE's Oregon Section is celebrating its centennial.