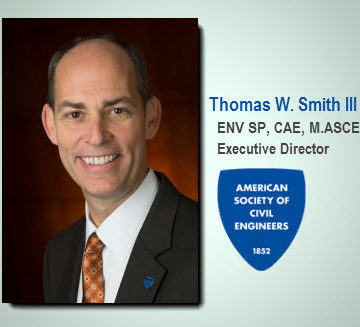 Today, Thomas W. Smith III, ENV SP, CAE, M.ASCE, becomes executive director of the American Society of Civil Engineers. A dedicated ASCE member for more than 25 years, he has been the Society's deputy executive director since 2010 and general counsel since 1997. Working closely with ASCE's geographic and technical organizations and affiliates worldwide, Tom has provided leadership, direction and management oversight across a wide spectrum of programs, operations and strategic initiatives.
Tom holds a master's degree in structural engineering, a B.S. in civil engineering from the University of Virginia and a law degree from Washington & Lee University. Before joining ASCE, Tom practiced law with a focus on land use issues.
Tom is also a Certified Association Executive (CAE) and an Envision Sustainability Professional (ENV SP). He has been active in his community and serves on the Fairfax County Board of Zoning Appeals. He previously chaired bar association committees providing legal services to local homeless shelters as well as coordinating national moot court competitions.
To see the extended version of the video, click  here.