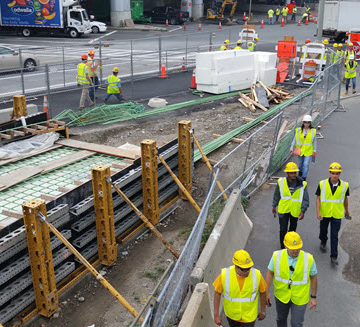 Every show needs a good dress rehearsal, and the ASCE Construction Institute's annual Student Days conference and competition, hosted this year in Boston, MA, provides such a dry run for a career as a construction professional.
"I was so happy I was able to take part in the CI Student Days," said Abigail Davidson, S.M.ASCE, who graduated in May from the University of Arizona with a degree in civil engineering. "The project was so realistic and I learned so much from all of the tasks thrown our way."
Davidson was one of 36 students and recent graduates at Student Days 2016 in Boston. The event brings up-and-coming construction engineers together with potential employers seeking new talent. The week features a variety of professional and technical presentations, a site tour, teambuilding and speed networking.
At the heart of Student Days is the CI Heavy Civil Engineering Team Challenge, in which six teams of students compete to create a bid package for a real-world construction job and present their proposal to construction professionals.
This year's project involved the development of a construction proposal for a pedestrian bridge in Boston, a smaller component of the $250 million rehabilitation of the historic Longfellow Bridge between Boston and Cambridge, keeping in mind the need to minimize effect on highway traffic as well as the surrounding residential and commercial areas. The students toured the Longfellow Bridge project, hosted by Skanska, as a part of the event.
"I gained so much knowledge and experience in the few days we had to complete the project," Davidson said. "I really enjoyed being able to work with a diverse team with different strengths and weaknesses. We got to put our time management and problem solving skills to use."
Davidson's group finished second in the project competition. CI honored her with an award for the best speaker on each team.
"This year we had an excellent group of students at Student Days," said CI President Craig Ruyle, P.E., M.ASCE. "The project was challenging, and all of the teams did a great job on it, even responding to all of the amendments that were thrown at them. The social, team-building, and networking events gave the students and professionals a chance to interact and to share ideas. In the end, one team had to win, but all of the students got to take away the experience."
Varying backgrounds gave first-place finishers the edge
Malcolm Perkins, S.M.ASCE, captained the first-place team, King's Construction.
Perkins graduated from Case Western Reserve last spring and will be starting his master's degree in geotechnical engineering this fall at Cornell University.
"We had a great team. We really connected from the get-go," said Perkins, who as a Boston native felt literally at home in the competition. "We did a scavenger hunt to start the weekend, and we actually ended up winning that. So we all sort of bonded after that."
Perkins led a team of diverse backgrounds – from students who had just graduated college to those students who had just started college, all with different civil engineering disciplines.
"That may have been our biggest advantage, actually," Perkins said. "When you're working on a bid you have to approach things in all different ways. One of the biggest things, especially at our level, is the ability to work together, collaboration. And it doesn't end when you graduate. All projects, both on the design side and the construction side, involve a lot of people working together on all aspects across the board."
For Davidson, the Student Days career audition gives way almost immediately to the actual career. She begins work as a field engineer for Turner Construction in New York City in September.
"I've already passed along my positive experiences to my school (U. of Arizona) and the future officers of our ASCE student chapter," Davidson said. "Now as I enter the workforce I am more confident than ever thanks to the realistic project we were tasked with at the Construction Institute Student Days."
Learn more about CI's Student Days.