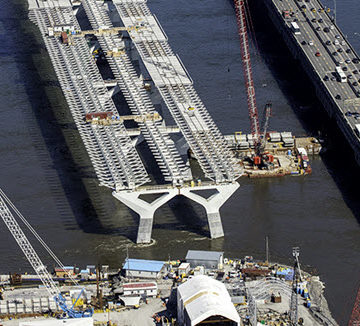 The New Champlain Bridge Corridor (NCBC) project in Montréal, Québec, has received an Envision Platinum award from the Institute for Sustainable Infrastructure. It is the first Envision-recognized project in the province of Québec and the second bridge project to earn an Envision award in North America.
In 2011, the Government of Canada announced the construction of the bridge to replace the existing Champlain Bridge. The cities of Montréal to the west and Brossard to the east are connected by the new bridge. A major regional transportation system, the NCBC allows for nearly $20 billion in Canada-U.S. trade annually.
In addition to improving growth and development, the NCBC project also improves the quality of life in neighboring communities. Accessibility was improved for pedestrians and cyclists with the introduction of a multi-use path. The new path will allow for efficient, secure, and safe mobility. Furthermore, a new passive de-icing concept will be purposed to mitigate the risk of ice (having accumulated on the bridge cable-stay system) falling to the bridge below.
The project team exhibited ingenuity throughout the entire construction process. The St. Lawrence Seaway, a dedicated navigation channel, didn't permit construction since it would interfere with maritime traffic. To overcome this technical constraint, the team used an innovative approach whereby construction of the main span tower could be completed without disrupting traffic on the seaway. This tactic was the object of an experimental development in civil engineering.
The ISI Envision rating system measures sustainable infrastructure projects in five categories: quality of life, leadership, natural world, resource allocation, and climate and risk. Learn more about Envision and ISI at sustainableinfrastructure.org.