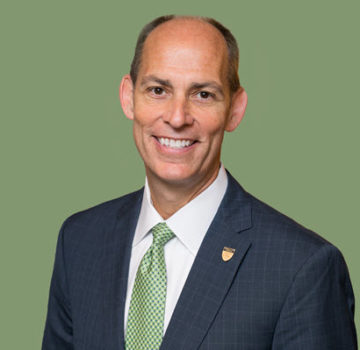 "The future won't wait. Neither can we. It's time to build."
That's the message conveyed by countless American businesses, workers, elected leaders, and others during Infrastructure Week 2018, May 14-21. According to recent polls, over 80 percent of Americans think that Congress should act to invest in infrastructure.
ASCE has actively participated in Infrastructure Week's Steering Committee, a diverse and bipartisan coalition working to improve the state of America's infrastructure. Of note, ASCE is the only traditional engineering group in the coalition – we are joined by the U.S. Chamber of Commerce, the AFL-CIO, and other powerful allies who recognize that infrastructure is a top priority for our country. Now in its sixth year, the Society continues to support the nationwide mission to raise awareness for the need to maintain and modernize our roads, bridges, water systems, airports, ports, energy grid, and more.
The need for infrastructure development is one of the greatest challenges of our time. Our country's history is built on engineered marvels, from transportation to clean water access. It's the backbone of our economy and essential to our quality of life. As engineers and stewards of the nation's infrastructure, we must do our part to reinforce this call to action.
During Infrastructure Week, businesses and individuals around the country will participate in all manner of Infrastructure Week activities, from a summit at the Port of New Orleans to a tour of the freight corridor in St. Louis. Our ASCE California members, as they've done for over 10 years, will once again participate in a Hill Day in Sacramento to advocate for infrastructure investment.
I encourage you to join your fellow ASCE members and get involved during Infrastructure Week. There is still time to join the movement as an affiliate and plan an event. Start by hosting an infrastructure field trip or lunch-and-learn or initiate a workshop with the assistance of ASCE staff. Or, simply share your infrastructure story. Announce a resolution, publish a blog, or engage the next generation through social media and use the hashtag #TimeToBuild. Infrastructure Week's 2018 Toolkit will help spark ideas to ensure you get the word out effectively.
It's time to stand up for infrastructure. Together, our voices can make the case for investment in a competitive, prosperous, and safe future. To keep up with Infrastructure Week activities, view the 2018 calendar for a growing list of events across the nation.
In case you missed them, here are some other ways we are working for you:
Where do women stand in civil engineering? Watch the new Interchange
Stephanie Slocum, P.E., author of She Engineers: Outsmart Bias, Unlock Your Potential, and Create the Engineering Career of Your Dreams, discusses the state of women in civil engineering with Casey Dinges, ASCE senior managing director, in the latest episode of ASCE Interchange. Watch it now.
Join a discussion in our exclusive member community, ASCE Collaborate
A Society member in India has sparked a lively exchange in ASCE Collaborate, the members-only online forum for discussing technical and career topics. Why, do you think, the FPS system remains in use in the United States? Read the replies and add your own, then explore other discussions. Like what you see? Urge your member friends to join in.
The online ASCE 7 Hazard Tool has added and updated features
The easy-to-use ASCE 7 Hazard Tool now delivers even more site-specific loads data when looking up your project's location. You'll also get serviceability wind speeds and expanded seismic data, displayed as graphs, tables, and comma-separated values. See how useful the Hazard Tool can be.
Our resident career adviser helps you be productive and thorough at the same time
High productivity is seen as a good thing, but if you aren't careful, the quality of your work can suffer. Engineering career adviser Anthony Fasano offered some strategies for being more thorough while staying productive.
Facing your licensure exam? Prepare with ASCE's live exam reviews
Our live webinars will give you the tools to prepare you for the P.E. Civil Exam, the P.E. Environmental Exam, and the S.E. Exam this fall. Each live webinar is taught by an expert instructor you can question. Watch them again on demand anytime anywhere. Register today.
Did you see the cool look at the LEGO House in Civil Engineering?
April's issue offers a look at Denmark's newest attraction, a combination LEGO museum and play area that was designed to look as if it's made of the classic kids' bricks. Take a tour of the LEGO House.