The Los Angeles Younger Member Forum partnered with the Los Angeles Department of Water and Power (LADWP) and the Society of Women Engineers to put on a special screening of Dream Big: Engineering Our World for the Girl Scouts of the USA.
After viewing Dream Big, the Girl Scouts listened to a panel discussion made up of accomplished LADWP female engineers. The Girl Scouts asked the panel questions about ways to overcome a hard day or week at school, what their first day on the job was like, and how they became more confident in their roles throughout their careers.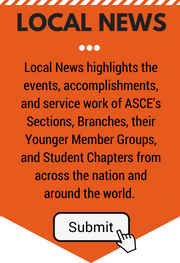 Each panelist had powerful words of wisdom for the Girl Scouts, including encouraging tips for finding what they're passionate about, how to overcome fears, and to speak up when they have good ideas. Attendees were encouraged to never give up and to always dream big.
The event was complete with a red carpet, fun hands-on engineering activities, an interactive booth, and giveaways. Jacobs Engineering Group Inc., a global provider of technical, professional, and scientific services, sponsored the decorations and giveaways and gave overall support for the outreach event.
Keep up with the Los Angeles Younger Member Forum online.
Click on each photo to see what members have been up to this past month:
Submit your Local News photos and news to Anabella Tourkaman at atourkaman@asce.org.