A group of students from the Beirut Arab University Student Chapter visited the highest bridge in Lebanon and the Middle East, the Mudeirej Bridge. The triple T-section girder bridge connects the villages of Bkarsouna and Nemrin in Lebanon and has a span of 100 meters and a height exceeding 200 meters.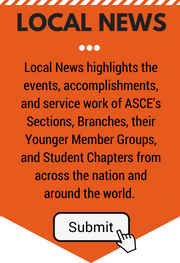 Led by Hassan Ghanem, Ph.D., M.ASCE, students received a site tour of the bridge and got a look at construction activities and project plans. The tour was followed by a professional discussion between the students, faculty members, and engineers working on the project. Afterward, attendees were welcomed by the mayor of the municipality of Bkarsouna, who spoke about the village and its history.
Keep up with the Student Chapter on Instagram.
Click on each photo to see what members have been up to this past month:
Submit your Local News photos and news to Anabella Tourkaman at atourkaman@asce.org.