The Philadelphia Younger Member Forum partnered with Northwood Academy Charter School for a school-wide Science, Technology, Engineering, and Math (STEM) night.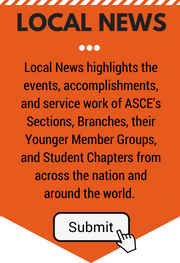 K-12 outreach Co-Chairs Caroline Voigtsberger and Assunta Daprano were joined by Christopher Medora, Tisha Garrett, Nha Truong, Jesse Gormley, and Joe Natale.
The volunteers worked with elementary and middle school students and their families to complete hands-on engineering activities. Students built foil boats, created wind-powered cars, cleaned up oil spills, and learned which shapes made the strongest bridges.
Keep up with the Younger Member Forum on Instagram.
Click on each photo to see what members have been up to this past month:
Submit your Local News photos and news to Anabella Tourkaman at atourkaman@asce.org.