Philadelphia Section Younger Member Forum board members Scott Cepietz, Jesse Gormley, Caroline Voigtsberger, and Joe Natale, along with nine other volunteers, partnered with Shawn Green from the Friends of Wissahickon to clean up a section of the Yellow Trail in Wissahickon Valley Park.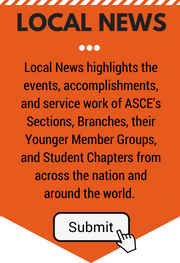 The volunteers completed the removal of an encampment that had been a hazard in the park since the summer and cleaned a densely littered section of the trail near the Henry Avenue Bridge. Despite the cold start to the day, volunteers stayed warm and collected 23 large bags of trash and recycling, as well as an arm-full of aluminum and steel piping, and a small boat motor.
Keep up with the Younger Member Forum on Instagram.
Click on each photo to see what members have been up to this past month:
Submit your Local News photos and news to Anabella Tourkaman at atourkaman@asce.org.