ASCE released the 2019 California Infrastructure Report Card, and members of the Orange County Branch and Region 9 attended the press release in Sacramento.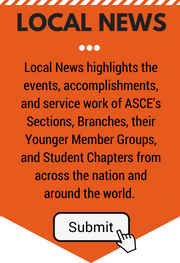 Attendees met with decision makers to discuss the urgent need to improve aging infrastructure.
The Branch continues to make an effort to get members to share the grades with friends, families and elected officials to prioritize improving, repairing and modernizing our infrastructure.
The members who represented the OC Branch include, Jose Baron Jr, MJ Hashemi, John Hogan, Steven King, Kenneth Rosenfield, Elizabeth Ruedas, Patrick Tierney, Adeleine Tran, Lenard Tran and Jeffrey Wykoff.
Keep up with the Branch on Instagram.
Click on each photo to see what members have been up to this past month:
Submit your Local News photos and news to Anabella Tourkaman at atourkaman@asce.org.