The Seattle Younger Member Forum invited the Tacoma-Olympia Section's Younger Member Group for a tour of the Concrete Technology Corporation in Tacoma, WA. The tour included a presentation about the prestressing process, application, and safety. Then, members were shown through the fabrication yard to see stressing beds, equipment, and setup.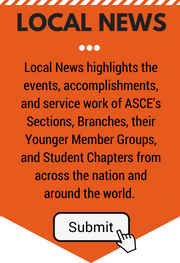 CTC pioneered the development of the prestressed concrete industry in the United States. Today, CTC's 30-acre plan includes over 150,000 square feet of enclosed production facilities; a state-of-the-art batch plant; welding, rebar, and carpentry fabrication shops; bridge, gantry, and mobile cranes; and shipping by truck, rail, and barge. The result of this is thousands of bridges, buildings, piers, tanks, floats, and other structures throughout the Pacific Northwest and Alaska.
Keep up with the Section on Instagram.
Click on each photo to see what members have been up to this past month:
Submit your Local News photos and news to Anabella Tourkaman at atourkaman@asce.org.