The Los Angeles Younger Member Forum hosted the City of Los Angeles Legislative Drive-In. Members spent the day at Los Angeles City Hall to discuss infrastructure issues with local legislators and public works officials to discuss local infrastructure projects, the city's preparedness for the 2028 Olympics, and how ASCE is a resource for governing officials.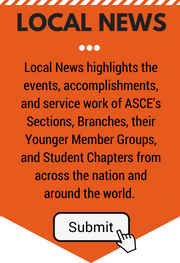 In reaching out, members were also able to introduce themselves and establish relationships for future cooperation. To continue their efforts, members will visit Sacramento, CA, and Washington, DC, to advocate for the advancement of infrastructure.
The event also provided an opportunity for members to connect with other members across Los Angeles and Orange County, CA.
Keep up with the Younger Member Forum on Instagram.
Click on each photo to see what members have been up to this past month:
Submit your Local News photos and news to Anabella Tourkaman at atourkaman@asce.org.