The Fargo-Moorhead Branch of the American Association of University Women held its third annual BrainSTEM event in collaboration with the North Dakota State University College of Engineering and Concordia College and was sponsored by Moore Engineering Inc.
ASCE's North Dakota Section leadership team, Alexa Ducioame, P.E., CFM; Alison Hanslip, A.M.ASCE; Yaping Chi, P.E., M.ASCE; and Vicki Schneider, P.E., M.ASCE, helped lead the event. The event hosted the entire seventh-grade class from Ben Franklin Middle School, promoting diversity in science, technology, engineering, and math (STEM) and reducing prejudice and bias by having workshop leaders from underrepresented groups.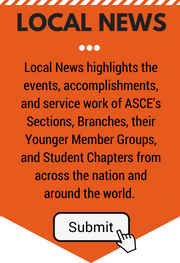 During her opening discussion on implicit bias, Ducioame prompted students to throw out names of famous scientists and engineers. A team of volunteers diligently worked to put together a slideshow of photos of the people noted. Students pointed out the lack of representation on the slides. Ducioame continued with her discussion on the need to be uncomfortable to make positive change, bias, implicit bias, and later introduced them to famous women and people of color in STEM.
Afterword, students had the chance to choose three out of 18 workshops. Workshops on interchanges and road building, slender tower, and a paper bridge building competition were taught by Hanslip, Chi, and Schneider – all workshop leaders are from underrepresented groups in STEM.
Keep up with the Section on Facebook.
Click on each photo to see what members have been up to this past month:
Submit your Local News photos and news to Anabella Tourkaman at atourkaman@asce.org.