The Philadelphia Younger Member Forum has been awarded an ASCE Student Transition Activity (STAY) Grant.
STAY Grants are grants that ASCE allocates to assist its membership communities in developing or expanding activities aimed at increasing immediate student member engagement, as well as retention after graduation.
The Philadelphia YMF submitted its first proposal for a STAY Grant in 2017 and was awarded $800 to support the first year of its mentor program, which concluded in April 2018.
The program featured 14 students from Drexel University and Villanova University, who were able to successfully connect with civil engineer mentors from the YMF. As this was the program's pilot year, the YMF look forward to expanding the program to all of the ASCE Student Chapters in the Philadelphia area for the 2018-2019 academic year.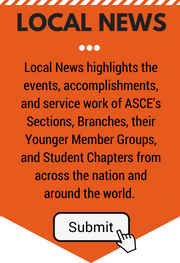 To celebrate the success of the mentor program's pilot year, the YMF organized a networking mixer using the STAY Grant funds and invited all the mentees and mentors to come together and meet others in the program.
At this event, the mentees were encouraged to share their stories of how the Mentor Program benefited them. The event successfully brought participants together, celebrated a successful pilot year, promoted the event for the following year, and encouraged graduating students to continue their membership and stay active with the YMF.
Keep up with the Younger Member Forum on Instagram.
Click on each photo to see what members have been up to this past month:
Submit your Local News photos and news to Anabella Tourkaman at atourkaman@asce.org.