In 2003, Fred C. Benson, a professor at Texas A&M Kingsville passed away. A few of his friends, family, and students got together and created the Fred C. Benson Endowed Civil Engineering Scholarship in his memory, funding it year by year. However, after a number of years, the endowment was left $680 short of its $25,000 goal.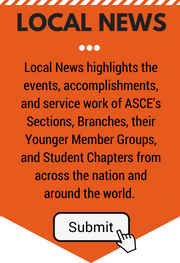 The ASCE Corpus Christi Branch found out about the incomplete endowment and decided to help.  In February the Corpus Christi Branch and the Texas A&M University Kingsville Student Chapter held a joint meeting, where among the typical meeting happenings, a check was presented to the faculty for the remaining balance, completing the endowment. The endowment has earned interest since 2004 and has already paid out over $17,000 to students.
Keep up with the Branch on Twitter.
Submitted by: Stephen L Skrobarczyk, Jr., P.E., M.ASCE
Click on each photo to see what members have been up to this past month:
Submit your Local News photos and news to Anabella Tourkaman at atourkaman@asce.org.