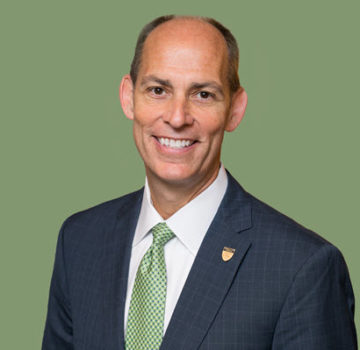 One of my favorite quotes is from President Theodore Roosevelt, during his speech "Citizenship in the Republic":
It is not the critic who counts; not the man who points out how the strong man stumbles, or where the doer of deeds could have done them better. The credit belongs to the man who is actually in the arena …
As the women and men who design and build our nation's infrastructure, civil engineers are uniquely qualified to be in the infrastructure public-policy arena. In fact, I would go so far as to say that civil engineers have a civic and ethical duty to join and lead this public policy debate, which will have a profound impact on our public health, safety, and welfare, and that of future generations.
Make no mistake, ASCE is a recognized and respected leader in this debate. With the 2017 Infrastructure Report Card, we have clearly and succinctly identified the problem and the solutions, backed up by vast amounts of supporting data and analysis. Our national Report Card is internationally recognized, receives several hundred media mentions each month, and has been a catalyst for discussion on the important policy issues that are shaping infrastructure spending. ASCE also works with local members to develop state Infrastructure Report Cards, including Illinois and Michigan and come Thursday, March 8, Idaho.
But there is much more to be done. Having framed the problem and the solutions, every ASCE member has a critical role in this debate. ASCE continues to work tirelessly to give your voice a microphone with which to inform policymakers about the benefits of modern, safe, sustainable, and resilient infrastructure, and to help them understand that the time to invest in our infrastructure is now.
Every year, ASCE members travel to Washington, DC, and walk the halls of Capitol Hill to learn firsthand how policy is developed and enacted. Following training by our Government Relations team, attendees speak to members of Congress and their staff to educate them on the severity of these issues and to advocate for the health, safety, and welfare of the public. In 2017, ASCE members visited over 230 Congressional offices and advocated for legislation that included water resources infrastructure appropriations, the FAST Act, and tax exemptions for municipal bonds.
At this year's Fly-In, we are expecting members to participate from all 50 states and Washington, DC, and Puerto Rico. As outlined in our 2017 Infrastructure Report Card, our infrastructure currently sits at a grade of D+ with an investment deficit of $2 trillion over the next 10 years. Therefore, our focus will be on encouraging Congress to build on President Trump's infrastructure investment plan, passing water resources legislation, including key provisions on dam and levee safety, and reauthorization of the FAA program.
I encourage every ASCE member to get involved. And to the many civil engineering industry leaders who ask how they can support ASCE's Report Card and advocacy efforts, I would ask you first to invest in your staff by supporting their membership and engagement in ASCE and the profession, which in turn provides the human and other resources we need to bring a unified, respected, and powerful voice to this great profession. Please also join us in advocating for increased infrastructure funding by becoming a Key Contact, emailing your Members of Congress to add your voice to those coming to Washington, speaking with your local government representatives, and tweeting during the Fly-In using #ASCE2DC.
It is time for every one of us to get "in the arena." We cannot sit back, second guess, and complain. We must be part of the solution.
Thank you for your continued involvement with ASCE and for making your voice heard on behalf of the civil engineering profession.
In case you missed them, here are some other ways we are working for you:
Inspire students to Dream Big at their school for only $5
Dream Big: Engineering Our World continues to thrill audiences worldwide. ASCE has launched a drive to put a DVD copy and educational toolkit in each public school in America to take this beyond the giant-screens. A grant from the United Engineering Foundation has the campaign off to a good start, but we need your help to achieve the goal. Here's how.
Help gauge civil engineers' compensation – take the 2018 Salary Survey
How are civil engineering salaries and benefits trending? Help the ASCE Salary Survey compile an accurate account of where compensation stands in 2018, and you'll see where you stand when the ASCE Salary Report is released this summer. Complete the survey and you'll gain additional access to the report. Take the 2018 Salary Survey.
Meet the 10 young pros and 10 student achievers named New Faces of Civil Engineering for 2018
Every year, ASCE spotlights two groups of rising talents as the New Faces of Civil Engineering – Professional and College. Each of the 20 honorees displays a passion for the profession that marks them for future success. Meet the 10 accomplished young professionals and 10 up-and-coming students profiled in ASCE News.
Advice to make you a more confident, polished public speaker
Engineering career adviser Anthony Fasano gives you valuable tips to improve public speaking skills. The two-part post challenges you to choose at least one action from the list and implement it into your daily routine. Take the challenge.
Never miss a beat with the print ASCE News app
Download the ASCE News app for your phone and keep up with Society activities covered in the monthly print edition. See it also on your computer. View the latest ASCE News and catch up on past issues.
Recruit new ASCE members and earn rewards
ASCE's Member-Get-a-Member referral program rewards you for each new member you recruit. Invite your peers to become part of the world's largest professional civil engineering network. See the referral rewards and start recruiting.