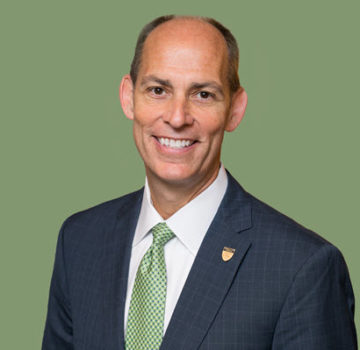 Attending a professional conference provides you with unique learning experiences that can't be found anywhere else. And what better way to keep up with advancements in our rapidly changing profession.
To stay current on trends and best practices in association leadership, I attend a variety of conferences each year, promoted by organizations such as the Council of Engineering and Scientific Society Executives, the American Society of Association Executives, and the U.S. Chamber of Commerce. I enjoy getting out of my office and connecting with other executives from the association community. By attending these conferences, I gain countless ideas and different perspectives, and return with renewed energy and purpose to face the challenges of leading an association.
At the ASCE 2018 Convention, the Society's flagship event, we bring together civil engineers from all different disciplines and different geographical areas. This year's event is Oct. 12-15 in Denver. The opening keynote speaker, Dirk Ahlborn, the CEO of HyperloopTT, will give the audience an insider's view to bringing the hyperloop to reality. Additionally, you can join your colleagues in participating in interactive sessions and workshops, which can help you thrive in the workplace. Venture outside of the conference and attend a technical tour. Get an internal view of sites like the City of Boulder Wastewater Treatment Plant or the Center for Infrastructure, Energy & Space Testing at the University of Colorado Boulder.
It's vital to stay ahead of changes in our rapidly evolving profession and world. Our education is a lifetime journey and a responsibility, reaching well beyond the classroom. ASCE is here to assist you with the latest developments, skills, and technologies, offered through a wide variety of means, including conferences and continuing education programs. Being at the forefront of change helps us grow professionally and in turn improves civil engineering practices and our quality of life.
In case you missed them, here are some other ways we are working for you:
Learn how Congress aims to address infrastructure
U.S. Rep. Sam Graves (R-MO), chair of the House Subcommittee on Highways and Transit, discusses several pieces of the infrastructure legislation working its way through Congress and makes the case for a strong federal role in modernizing our nation's infrastructure. Watch the latest ASCE Interchange.
Volunteer through ASCE to help advance the profession
As an ASCE member you can dedicate your expertise to a cause that's important to you. Browse the many opportunities offered based on your interests and needs and the amount of time you can give.
Another exciting National Concrete Canoe Competition is in the books
Twenty-five teams from as far away as China came to the 31st annual National Concrete Canoe Competition at San Diego State University. Read how teams helped each other to overcome challenges and see who won.
Fend off P.E. exam nerves by preparing like a pro
If you're looking to get ahead in your career, then you're probably preparing for the exam that will qualify you for a P.E. license. The next round of ASCE's P.E. Civil Exam Review Courses begins Aug. 2. ASCE News talked with J.P. Mohsen, Ph.D., F.ASCE, the courses' professor, who shared tips on how to best prepare for the exam.
Register for the Younger Member Leadership Symposium
The two-day leadership workshop, hosted by the ASCE Committee on Younger Members, is open to all ASCE Younger Members. The symposium focuses on professional skills development to help you succeed and lead in the workplace. Register by July 19.
Send schools DVD copies of Dream Big and inspire future engineers
ASCE members can give $5 to place a Dream Big educational toolkit in the school of their choice. We will take preorders through July 31. And watch Dream Big: Engineering Our World at home on Netflix. Help us make it trend by adding it to your watch list.