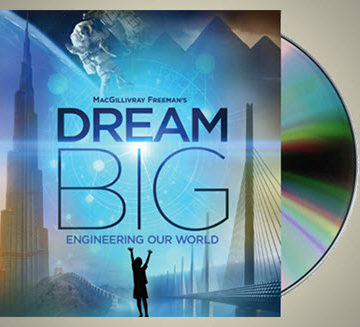 ASCE has a new goal for 2018: placing a DVD copy of the acclaimed documentary Dream Big: Engineering Our World in every U.S. public school.
Placing the film with a toolkit of educational resources in every school will expand Dream Big's audience to include students in rural and economically disadvantaged communities, support the growing need for curricula aligned with the Next Generation Science Standards, and promote greater interaction between engineers and educators.
The toolkits will include the film itself – in multiple languages and licensed for educational screening – a teacher's guide and accompanying educational videos.
ASCE has secured generous support from the United Engineering Foundation, allowing for distribution to 30 percent of the 95,000 public schools in the United States, including all high schools.
But there's more to do. So how can you help?
ASCE members can help put Dream Big in the remaining 70 percent of schools. Individuals can give $5 to place a toolkit in the school of their choice, using the newly launched website. You can search for different schools with the menu on the upper right-hand side of the page.
While the goal is to reach all U.S. public schools, members will have the option to purchase educational DVDs for private and parochial schools, as well as for international schools. (The cost of international distribution will be slightly higher.)
ASCE will be taking preorders for the educational DVDs through the summer, with distribution to the schools set to begin in the fall of 2018.
Dream Big is presented by Bechtel and produced by MacGillivray Freeman Films in partnership with ASCE.
Keep up with the latest Dream Big developments at the film's official website.