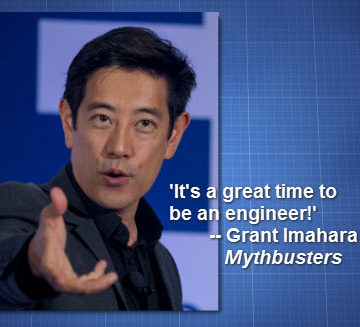 To conclude the week of exciting Panama Canal tours and valuable educational sessions for the practicing civil engineer, attendees at ASCE's Global Engineering Conference rounded out their experience with the third and final Distinguished Lecture, this one on "Envisioning a Better World: The Making of Community and Globally Impactful Engineers," and a closing keynote address from Grant Imahara, one of the hosts of the Discovery Channel's Mythbusters.
Imahara, who holds a bachelor's degree in electrical engineering from the University of Southern California, and was an animatronics engineer and model maker for Hollywood director/producer George Lucas' Industrial Light and Magic, talked to the attendees about how his show Mythbusters made science and engineering cool.
"It's a great time to be an engineer," says Imahara, whose movie credits include Jurassic Park: The Lost World, Star Wars: Episode I – the Phantom Menace, Terminator 3: Rise of the Machines, Matrix: Reloaded, and Revolutions. "I heard not too long ago that science and engineering was sort of taboo, unpopular…..but since [the popular sitcom] The Big Bang Theory and our show [Mythbusters], science and engineering has become a cool thing.
"People ask how did you make science and engineering cool on Mythbusters? It's all about science. But it didn't start out to be a science show and also did not set out to appeal to kids necessarily but somehow we do both. I think the takeaway here is that the kind of science that we teach, is wrapped up in a delicious candy coating of explosions….so the kind of things that we do on the show are not the kinds of things you would see on a straight-up science show, those are certainly elements of what we do, but a lot more of what we do are of things that people wonder about."
Envisioning a Better World
The Distinguished Lecturer, James R. Mihelcic, Ph.D., BCEEM, director of the Master's International Program in Civil and Environmental Engineering at the University of South Florida, spoke on "Envisioning a Better World: The Making of Community and Globally Impactful Engineers," emphasizing that an engineer can facilitate better living in the rural, developing world through water, sanitation, and hygiene projects.
Mihelcic explained that to accomplish that goal, engineers needed to "promote sustainable development, appropriate technologies, beneficial infrastructure, and changes to the environment that are socially just."
"Welcome to our vision," declared Mihelcic, "a world where all have access to sanitation, potable water, and safe indoor air; where all children are able to learn in well-built classrooms; where families no longer suffer from disease, starvation, and poverty; where renewable energy has replaced fossil fuels – and engineers are part of the solution."
Important to achieving those goals is building "global competency" early in the career of scientists and engineers, said Mihelcic, who is also a professor, a State of Florida 21st Century World Class Scholar, and director of the EPA National Research Center for Reinventing Aging Infrastructure for Nutrient Management. He defined "global competency" as "the ability to understand and work effectively with engineers and other coworkers who are raised, educated, and living in countries other than their own and who solve and define problems differently than oneself." Mihelcic said engineers specifically need to have skills in language and cultural as well as teamwork and group dynamics, along with knowledge of the business and engineering cultures of other countries, and of international variations in engineering education and practice.
Mihelcic explained the genesis and importance of the book he co-wrote, Field Guide to Environmental Engineering for Development Workers, which is published by ASCE Press: "In the forward to our new field engineering book, President Carter wrote that 'Peace falls under the general umbrella of many things: freedom, democracy, human rights, the alleviation of suffering, and the improvement of environmental quality and health.' This is really the overarching goal of why we are here today, to provide information to allow people to alleviate poverty and work for peace and justice through engineering projects related to water, sanitation, indoor air pollution, and hygiene."
Mihelcic said that "having access to the basic needs of water, sanitation, hygiene, and shelter are issues of human rights, not just issues of development and engineering. Providing these basic rights in a sustainable manner is critical if we are to improve the health among poor people afflicted with disease, people who are often isolated, forgotten, ignored, and without hope."
He went on to note that "if you examine engineering closely, it is about solving problems. Engineering is also tied to eradicating poverty and disease, just as much as it is tied to planning, design, and construction. One key, though, is to provide engineers and others with resources so they understand the beneficial use of appropriate technology. This type of technology is developed and deployed with ongoing input from local communities to accommodate economic, social, environmental, and cultural conditions unique to each locale. Such an approach holds greater promise of fostering healthy communities and reducing gender inequalities."
Order of the Engineer
An additional bookend to the conference was the Order of the Engineer ceremony, in which several dozen engineers took the traditional oath administered by ASCE President Robert D. Stevens, Ph.D. P.E., F.ASCE. The ceremony is designed to express pride in the engineering profession and commitment to ethical and responsible engineering practices. Since the ceremony was first held (at an ASCE conference in 2003), more than 4,700 engineers have participated in the ASCE-led ring ceremony.
The ring ceremony is the public induction of candidates into the Order of the Engineer, during which each of the engineer candidates formally accepts the Obligation of an Engineer and then receives a stainless steel ring to be worn on the little finger of the working hand as a symbol of commitment to that obligation.