Marsha Anderson Bomar, ENV SP, F.ASCE, the founder and president of Street Smarts Inc., a planning, engineering, and design firm, and Data Smarts, a data collection and management firm established in 1990, has been named a Fellow by the ASCE Board of Direction.
In 2010 Bomar sold both of her firms to Stantec Inc., where she served as a senior transportation and sustainability principal until assuming the role of executive director of the Gwinnett Village Community Improvement District, Norcross, GA, in 2016. She was on the Board of Women's Transportation Seminar in New York City in the early 1980s and was president of the Atlanta chapter from 1986 to 1988. She served on the local WTS Board as well as the International Board, and received the Atlanta chapter WTS Woman of the Year and WTS Employer of the Year as well as the Leadership in Diversity Award.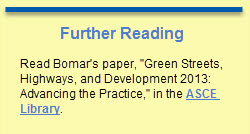 She had the honor of being the first woman to serve as international president of the Institute of Transportation Engineers. More recently, she was awarded the ASCE William Wisely Civil Engineering Award. Others recognitions include the Gwinnett Chamber of Commerce Public Servant Award and Gwinnett Clean and Beautiful's Green Business Leader of the Decade. Bomar was named one of Atlanta Woman magazine's 2008 Top 25 Professional Women to Watch. She was awarded the Society for Women Engineers Entrepreneur of the Year Award in 2005 for her outstanding service to the transportation engineering profession.
She has served as the president of ASCE's Transportation and Development Institute and was also recognized by the University of Massachusetts Amherst ITE chapter with the 2009 Jane F. Garvey Transportation Leadership Award for her outstanding leadership affecting women in transportation and her remarkable contributions to the field. In 2010, she received the American Council of Engineering Companies' Community Service Award. That year she also received, from the Georgia Section of ITE, the Karl Bevins Distinguished Service Award, which is given to recognize highly competent and professional engineers who practice in the field of traffic and/or transportation over a number of years.
Bomar is currently serving her third term as council member and has twice been mayor pro tempore for the City of Duluth, GA. During her time as an elected official, she has completed almost 100 hours of training from the Carl Vinson Institute of Government, including courses on policy, law, ethics, lobbying, community, and economic development and cultural diversity. She is also an instructor for the Planning and Zoning Class. She is the author of hundreds of publications, articles, and studies and an International speaker on technical subjects as well as leadership and ethics.
She earned a bachelor of science in mathematics and a master's in transportation planning and engineering from the Polytechnic Institute of Brooklyn. She also holds a master of civil engineering from Princeton University.