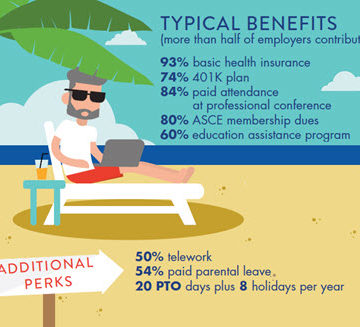 Sometimes the only thing that will clear your mind is a good game of dodgeball.
That's what the City of San Antonio Aviation Department does, anyway.
Employee benefits come in many forms – healthcare, professional development, and, yes, sometimes dodgeball tournaments.
The 2018 ASCE Salary Report provides an industry snapshot, detailing compensation – salary and benefits – statistics for civil engineers by location, discipline, and experience levels, among other metrics. The report's Salary Calculator allows civil engineers to sort and compare the results to their individual pay and benefits. ASCE members get five free uses of the calculator.
What it shows is a civil engineering industry with a robust package of employee benefits. The Salary Report found that 93 percent of respondents receive basic health insurance from their employer, 84 percent receive paid attendance to professional conferences, and 60 percent receive assistance for further education.
But what about dodgeball?
ASCE members shared in an ASCE Collaborate discussion some of the more unique workplace benefits they receive. Here's what they had to say:
Jairo Rodriguez
P.E., M.ASCE, senior drainage engineer, Altamonte Springs, FL
"At BCC Engineering, we have a 15-minute break that we use to play ping pong or darts! Plus many other goodies that our office managers provide on a weekly basis."
Denise Nelson
P.E., ENV SP, M.ASCE, environmental engineer, Richmond, VA
"In New Zealand, we had a game room with foosball. The game room also included a bar – it's customary in New Zealand to have drinks with your colleagues after work. My company focused on one Friday a month; we'd each get one free beer and could buy more. Some companies offered unlimited free drinks, and some companies did it every Friday!"
Timothy Austin
P.E., M.ASCE, airport engineer, San Antonio, TX
"I work at the City of San Antonio, Aviation C&D. My fellow aviation employees enjoyed a dodgeball tournament this week. They had a lot of participation and raised money for charity."
Stephanie Slocum
P.E., M.ASCE, founder, CEO, Engineers Rising, State College, PA
"I worked in an office that brought in a masseuse for chair massages once a month. That was awesome!"