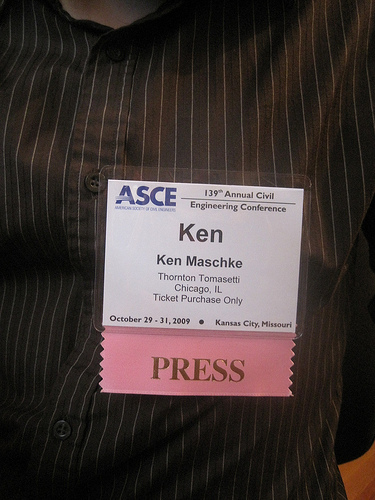 During the run up to the 2008 presidential election, people were surprised to learn that bloggers were routinely granted access to the candidates.  At the Democratic National Convention, about 120 bloggers received press passes.  In 2009, ASCE has followed suit.  I was the first blogger to be granted press credentials to the annual conference.
Really, this just allowed me to roam around the conference without getting hassled for registration documents.  I was also entitled to the free coffee, tea and eavesdropping in the press room.
I met writers for ASCE News and Engineering News Record. Additionally, I was among the first to know that Andrew Herrmann, who worked on the the Report Card for America's Infrastructure, was going to appear on Good Morning America to discuss the damage cause by a failed reinforcing collar on the San Francisco Bay Bridge.  However judging by the immediate buzz in the room, the story of the day was the disappearance of several small bean bags used for a game at the Geico Insurance booth.
It may not have been the CNN Situation Room, nevertheless I've enjoyed an interesting behind the scenes look at the messages being formed at the Annual Conference, not too bad for my first assignment in the field.
Sorry, there are no polls available at the moment.