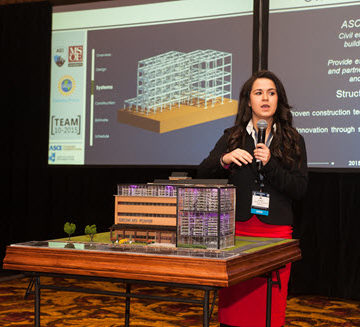 Moses Ling received an email the other day from a former student, recalling her experience in the Architectural Engineering Institute's Student Design Competition.
"She said her best [career] experience was when she did this competition two years ago," said Ling, P.E., president of AEI and professor of architectural engineering at Pennsylvania State University. "She's in the profession working right now, and her job isn't looking as integrative as the competition does."
Integration is the key word for planners of the 2016 AEI Forum, March 31 and April 1, in Worcester, MA, which features presentations and results from the Student Design Competition and the annual Professional Project Awards, as well as a full technical program. Registration for the AEI Forum is open. The forum's theme is "The IMPACT of the Integrated Building."
"The future engineer will be more likely to work in an integrative manner," Ling said. "It's the way the industry must move in order to be efficient. The days where the architect says, 'Here's my design; engineer it,' should not go on anymore. It should be a team effort."
The technical program will feature nine industry expert keynote lecturers, including Structural Engineering Institute President David Odeh, followed by interactive breakout sessions allowing for dynamic discussions and information exchange among Forum participants.
The student competition welcomes teams of as many as 10 students, putting together time-intensive projects. Many schools incorporate the competition into their senior capstone projects.
This year's competition set students about putting together integrative-design solutions for an actual 17-story building in Boston that is under construction.
"The owners allowed the students to work on it as if they are the real designers," Ling said. "Of course the students are not permitted to contact the design professionals to get their versions."
While the Student Design Competition highlights the future of the industry, the AEI Forum is also a showcase for the finest work being done in the present.
The Professional Project Awards banquet and awards ceremony is April 1, with Awards of Excellence in seven categories, as well as two awards each for most innovative project and best overall.
"I always say that this illustrates the best practices in our industry," said Bob Grottenthaler, P.E., LEED AP, committee chair for the Professional Project Awards. "It helps everyone else raise the bar in how we emphasize art and science in an integrated approach."
Grottenthaler called this year's crop of submitted projects "probably the best we've ever had." Certainly, it's a diverse group with an art gallery, a net-zero-energy school, a research facility, a raceway, and even a brewery among the submissions.
"Other professionals really love to see what their colleagues are doing. Everybody can learn from everybody else. It just makes our industry that much better."